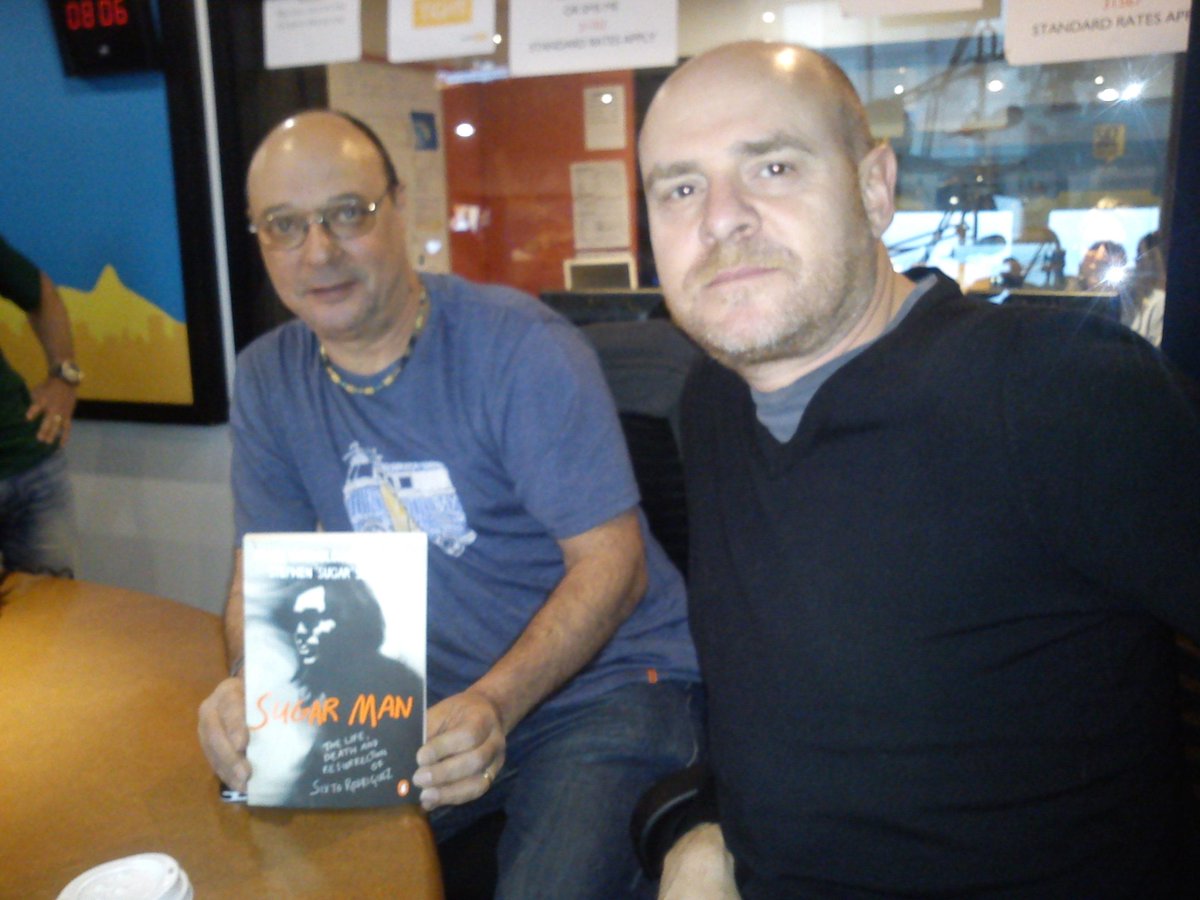 The two men at the centre of the search for musician Sixto Rodriguez have written the story of their journey. Stephen "Sugar" Segerman and Craig Bartholomew-Strydom authored the book "Sugar Man – the life, death and resurrection of Sixto Rodriguez", after the success of the documentary film that was made about their quest. The pair share the tale of what they call an 'irresistible story" about Rodriguez, who was rumoured to have killed himself on stage. Listen to the full conversation (with John Maytham standing in) on CapeTalk's Breakfast with Kieno Kammies:
Source: Capetonians pen the journey to find musician Sixto Rodriguez in new book
See full article at Open Skies, June 2015
Rodriguez has three albums in the Australian chart this week. The Rodriguez catalogue took an active run on the ARIA chart after his 2014 tour was announced last week.
Rodriguez was last in Australia only last year for Bluesfest and played a national tour with backing band The Break, featuring members of Midnight Oil and Violent Femmes.
The first Rodriguez album 'Cold Fact' (1970) is at 11, the 'Searching for Sugar Man' soundtrack is at 22 and his second and final album 'Coming From Reality' (1971) is at 25.
The Detroit singer songwriter Rodriguez has only ever recorded the two albums from the early '70s. Consider that at that time in Australia it was pre-FM radio, pre-Internet, pre-Cable and Digital TV. Australia was completely cut off culturally from the rest of the world at that time.
Read more: Rodriguez Has Three Albums In Australian Chart | Noise11.com.
In May Swedish film-maker Malik Bendjelloul – who had won an Oscar for his debut, the stunning Searching for Sugar Man – shocked everyone by taking his own life. Talking to the people closest to him, Andrew Anthony tries to make sense of a tragedy.
Documentary feature film-making, if done well, is a long, arduous and very often thankless task. There is no script to speak of, no blueprint or guidelines. All there is to work on is the shapeless chaos of the world, or a particular part of the world, out of which the film-maker hopes to fashion a coherent structure, arresting images, compelling characters and a story that excites and touches people. In terms of reaching a large and appreciative audience, it's almost always a study in failure.
There are, though, a select group of exceptions, narrative documentaries that enjoy critical recognition and the special approval of a cinematic release. One such film was Searching for Sugar Man, a story about Sixto Rodriguez, a forgotten Detroit singer-songwriter from the early 1970s who, unbeknown to him, was a huge star in South Africa during the apartheid era. It was the debut of a young and immensely talented Swedish film-maker named Malik Bendjelloul, who had come across Rodriguez's story while travelling in Africa, looking for stories to turn into short TV pieces.
So struck was he by the tale of this lost musician that he went off on his own and gathered the material, directed, filmed some sections himself, wrote incidental music, added his own illustrations, made the title sequence and finally edited it for 1,000 days. During filming Bendjelloul ran out of money and, as he could no longer afford Super 8 film, he shot some of the remaining footage on a smartphone using the iPhone app8mm Vintage Camera.
Read more at Searching for Malik Bendjelloul – a tragedy 
How Steve Rowland Produced the Real Rodriguez on "Coming from Reality"
By Mark Worth ​
One of the most noteworthy final albums ever recorded might never have been made had Steve Rowland not been sitting in the London office of music publisher Freddy Beanstalk one day in the summer of 1970.
Rowland looked on Beanstalk's desk and saw a copy of an album hardly anyone had ever heard of, by a singer-songwriter from Detroit who was just as obscure. Rowland borrowed Cold Fact and listened to it.
"I said to Freddy, is this guy Rodriguez gonna do another album? Because if he is, I'd like to get in line and be the producer. I really, really am into this," Rowland recalls telling Beanstalk.
"Freddy said, 'Be my guest, man, because nobody's really interested.' I said, well, I don't understand that, because this guy is great."
That fall, Rodriguez was on a plane to London. Within three weeks of meeting him for the first time, Rowland had put together Coming from Reality, Rodriguez's second and final record. The closing track, "Cause," was the last song Rodriguez would ever record for an album.
Rowland, who has produced more than 20 albums and dozens of singles that span the musical spectrum, says "Cause" is the saddest song he's ever heard – sad enough to have made his girlfriend at the time, actress Sally Farmiloe, cry when she heard Rodriguez record it in the studio.
Forty years later, "Cause" nearly brought Rowland himself to tears while being interviewed for the documentary Searching for Sugar Man. The profile of Rodriguez elevated to international fame the near-destitute construction worker whose two albums were total failures in the US, only to learn nearly 30 years later that he was a superstar in South Africa whose anti-establishment lyrics helped bring down Apartheid.
The "Cause" scene is one of the Oscar-winning film's most lasting moments: Rowland, sitting in his home in Palm Springs, California, plays the song for filmmaker Malik Bendjelloul. Rodriguez's opening line – Cause I lost my job two weeks before Christmas – visibly stuns Rowland as though hearing the song for the first time. He manages only to shake his head and say, "Oh, man…".
After collecting himself, he explains that Rodriguez was dropped from his record label shortly after Coming from Reality was released in 1971 – "as if premonition," Rowland says, two weeks before Christmas.
A song that is held between happenstance and genius, "Cause" has become the five-and-a-half-minute, 239-word anthem for the improbable, almost impossible story of Sixto Diaz Rodriguez.
Setting Sail into a Teardrop
The 10 tracks on Coming from Reality were recorded in the fall of 1970 at London's Lansdowne Studios, which has also hosted the likes of John Lennon, Maynard Ferguson, Rod Stewart, Sex Pistols and Rowland's own band, Family Dogg. The studios had been installed inside a former underground squash court with thick walls 20 feet high.
"When the studio was built they didn't tear those walls down, so the sound in that studio was completely original. You would get a sound that nobody else had. Lansdowne was known for that," says Rowland. "It provided the overall ambience of the whole album, and you can hear it especially on 'Cause'. There's a majestic quality to it, and it comes from that studio.
"I suppose today, with all the digital stuff, you could probably re-create the sound. But nothing is as good as natural."
Lansdowne, since closed, wasn't far from Abbey Road Studios, where The Beatles recorded their final album track a year earlier. "The End" evokes emotion with hope: And in the end, the love you take is equal to the love you make. "Cause" does it with despair:
Cause they told me everybody's got to pay their dues
And I explained that I had overpaid them…
So I set sail in a teardrop and escaped beneath the doorsill
Cause the smell of her perfume echoes in my head still
It was lyrics like this that moved Rowland to produce "Cause" and the rest of Coming from Reality in a way that completely went against the grain during that era.
With the advent of concept albums and new technologies – not to mention lavish studio budgets – many bands would spend months or even years working on a record. Instrumental tracks were obsessively laid over each other to the point that the instruments drowned out the vocals. An experienced actor who placed a high value on the spoken word, Rowland made sure Rodriguez's lyrics stood out from the music – so that every word was discernable.
"We tried to get a dramatic effect without overpowering the vocal. That's so important. Because for my money, good production is: less is more."
The only music that can be heard on "Cause," in fact, are Rodriguez's gentle picking and strumming on his converted, hollow-sounding classical guitar, and a simple, undulating string arrangement composed by a young violinist named Jimmy Horowitz.
"We worked a long time on 'Cause'. The strings were written and recorded to match Rodriguez's vocal," Rowland said. "He seemed to be completely thrilled with what was coming out. He loved those arrangements."
The strings are orchestrated to coincide so closely with Rodriguez's lyrics that they can actually influence how you hear the song. Horowitz's arrangement begins to soar lightly just as Rodriguez sings the line, And give a medal to replace the son of Mrs. Annie Johnson. The gently rising strings conjure the first glimpse of a sunrise, so subconsciously you may hear sun instead of son. The orchestration and melody reach a calming resolution, as though the sun has finally climbed above the horizon.
After this moment passes, you realize what Rodriguez is saying. The government gave Mrs. Johnson a medal because her son had been killed in the Vietnam War.
"Rodriguez is saying it in a sardonic tone, but it's a front for how he really feels. He's being very sardonic and cynical. Yeah, give a medal to a mother for the son she lost in Vietnam," says Rowland. "What he's really feeling is: how can a country do something like that? The country had no feeling for the actual person himself."
The juxtaposition of the music and the message brings more power to both. "The arrangement is the complete opposite of the lyrics, and that's how we looked at it," Rowland said. "Rodriguez loved it, and it worked."
Drowning the Sun
The son of a film director and great-nephew of MGM studio head Louis B. Mayer, Rowland was a teen star during the 1950s, appearing in TV's Bonanza and The Rifleman, and a number films including Battle of the Bulge and the original The Thin Red Line.
After crossing over into music in the '60s, he went on to produce a string of hit acts including Jerry Lee Lewis, The Pretty Things, P.J. Proby and the British pop band Dave Dee, Dozy, Beaky, Mick & Tich, which charted 13 Top 10 hits. Rowland discovered Peter Frampton and The Cure, worked with Elton John when he was a young session pianist named Reggie Dwight, and had a hit single with his band Family Dogg – the choralized, minimalist "Sympathy."
It would take an effort on the scale of producing Coming from Reality to overshadow what Rowland achieved at Olympic Studios in London the previous year. In September 1969 he was producing Proby's album Three Week Hero when Robert Plant, Jimmy Page, John Paul Jones and John Bonham played on the psychedelic-tinged "Jim's Blues." It was the first occasion all four members of Led Zeppelin, then known as the New Yardbirds and barely into their 20s, performed together in the studio. Days later, they began recording their eponymous first album.
Though he had worked with many musical greats and was himself a top-selling performer, Rowland was aware that the unknown but sheerly gifted Rodriguez would present him with a new set of creative openings and tests.
Rodriguez arrived in London with his manager/girlfriend at the time, Rainy Moore. (The story goes that the album was named spontaneously when Moore was asked where Rodriguez was coming from.) At that first meeting, Rowland remembers, both he and Rodriguez were on guard.
"I was apprehensive about the whole thing because I wanted to do the album so badly. I wanted to make sure that he believed in me as a producer. But when we started to talk, he was very shy, quiet, very introspective. He's an intellectual. He thinks before he speaks. He's not a guy who is outgoing. I guess he was trying to suss me out as well."
Despite having worked and crossed paths with Elvis, Marilyn Monroe, Henry Fonda, James Dean and many other legendary figures, Rowland confesses he was star-struck by Rodriguez.
"We as artists and creators have our heroes, too. And we get just as awe-inspired by our heroes as people who aren't in the business get inspired by big movie stars or rock stars or sports stars," says Rowland. "And when you meet them, you know, it's always overwhelming. Well, that's how it was for me with Rodriguez, because I really, really was into the way he was writing. I was into the way he thought."
Within a day or two, when Rowland and Rodriguez began going through the songs together, the barriers fell and the two began an intense collaboration. "I said when we were in the studio, let us – in music – show the guy's soul. Let's show what this man really is," says Rowland. "How can I make this guy felt in the music? That was my main objective. How can I get people to feel him?"
In "Cause," Rodriguez reveals his soul through wrenching lyrics about lost loves, despondent friends, resignation and drugs:
While the rain drank champagne / My Estonian Archangel came and got me wasted
Cause the sweetest kiss I ever got is the one I've never tasted…
Cause I see my people trying to drown the sun in weekends of whiskey sours
Cause how many times can you wake up in this comic book and plant flowers?
Rowland, in a way few others have, came know and understand the aloof Rodriguez, the son of Mexican immigrants who earned most of his living demolishing buildings and who reportedly lives in the same broken-down house he bought in the 1970s for $50.
"Sadness can be contained within a whole life of a person, and even some of the happiness that a person remembers in that life makes them sad as well, because it's no longer there for them," Rowland said. "This is how I approached Rodriguez. Because I felt, you know, here's a guy, he lives in Detroit, which is not what you would call a paradise of the world. It's a hard life in Detroit, and he's lived in the same house since he was a young guy. He's seen lots of ups and downs – probably mostly downs."
Take Rodriguez's lyrics, which alternate from rebellious to playful to despondent to romantic. Lay on top of this a life story that embodies these lyrics. Now, form all this into songs with melodies and structures that don't cheapen any of it. For Rowland, producing Coming from Reality was more than a creative exercise. This became a personal responsibility – even a duty to the artist known as Rodriguez.
"I did put a lot of myself into it because I was really knocked out by what he was talking about. I believed in it that much. But actually," says Rowland, "because I believed in him so much, nothing we did was challenging. It just flowed. I could hear it in my head."
Perhaps because Rowland could visualize the sound and feel of the album, no song needed more than two takes to get right. The entire album was recorded in about 10 days.
It was 10 days that pushed Rowland to create something that lived up to his image, his idealized portrait, of Rodriguez.
"I wanted to make sure…," said Rowland, pausing, "It was very important to me that I did the best I could with this man, and that I brought out everything that I saw and felt in the way he writes and sings – that I could bring that out in the record. Each one of those songs was made to give a feeling to Rodriguez. It had to be real, and I would do it again today the same way."
Mark Worth is an American journalist and public interest activist living in Berlin. His family roots are in Detroit.
Light in the Attic's Matt Sullivan, whose reissues prefigured the Oscar-winning documentary, laments the story's tragic ending.
Matt Sullivan, 38, is a true believer. The head of Light in the Attic, the reissue label he founded in 2003 with partner Joe Wright in Seattle, released Sixto Rodriguez's two albums, his 1970 debut, Cold Fact, and the 1971 follow-up Coming From Reality, in August 2008 and May 2009, just about the time the late Oscar-winning filmmaker Malik Bendjelloul began working on his documentary about the Detroit singer-songwriter who had become a cult figure in South Africa as a symbol of the fight against apartheid.
The first time Sullivan heard Rodriguez's "Sugarman," from a compilation sent to him by his friend, Irish producer/musician David Holmes, he was hooked.
"I couldn't get enough of it," says Sullivan who launched the label with This Is Madness, the 1971 sophomore record by hip-hop precursors the Last Poets, and has released more than 150 albums since.
Sullivan then e-mailed South African record store owner Stephen "Sugar" Segerman, who put him in touch with Rodriguez and his family, as the fan tried to figure out how to license the albums and get the musician, who didn't make a penny from all the bootlegs sold in South Africa and Australia, paid.
The search brought him into contact with Rodriguez's original producers, Dennis Coffey and Mike Theodore, and music business veteran Clarence Avant, the one-time Motown head who released the two Rodriguez albums on his own Sussex label, most famously the original home of Bill Withers.
Avant refused to answer Matt's e-mails or phone calls, but Sullivan's persistence finally landed him a meeting with the elusive label head, who agreed to meet during a wedding anniversary trip to Seattle. After seeing the kind of publicity Light in the Attic generated for its releases, Avant relented and consented to license the two albums to the indie company.
If there's a villain in Searching for Sugar Man, it's the flippant Avant, who brushes off talk of contracts signed 40 years ago, though, according to Sullivan, his attitude belies the fervent belief the executive had in Rodriguez and his music, going so far as to ask him to change his name to Jesus Rodriguez to avoid a previous publishing deal, a case now in the courts.
Read more at Rodriguez Label Chief: 'Our Dealings with Clarence Avant Were Always Positive' | AUDIO KORNER
From Daily Maverick
Malik Bendjelloul, the Swedish director of 'Searching for Sugar Man', has committed suicide aged 36. It's just over a year since the documentary about folk musician Rodriguez won Bendjelloul an Oscar and captured the hearts of viewers all over the world. REBECCA DAVIS spoke to Bendjelloul's subject and friend, Cape Town record-store owner Stephen 'Sugar' Segerman.
The last time I interviewed Stephen Segerman in his den in Oranjezicht, it was July 2012, just prior to the official release of Searching for Sugar Manin South Africa. At that time Segerman gave the impression of a man both bemused and exhilarated by the success of the film, in which he features prominently as one of two South Africans who made it their mission to track down Rodriguez.
Shortly before the interview, he'd been to the Sundance Film Festival with Bendjelloul and Rodriguez, where the film received a standing ovation. "It was just a magical night," he told me at the time.
Watch: Searching for Sugar Man trailer
Almost two years later, the fairytale seemed even rosier. Searching for Sugar Man won the Best Documentary Oscar at the 2013 Academy Awards. Rodriguez, who languished in obscurity for years, today has fame and fortune locked down. It was the ultimate feel-good story.
And then, on Tuesday, shocking news broke: Bendjelloul, aged just 36, was dead.
"You know, with some people you have inklings and maybes. With Malik? Suicide? Impossible," says Segerman, shaking his head. "I thought he must have died in his sleep or something. When I heard, well…" he trails off. "I've been seeing the comments. This dude had the world at his feet, he had an Oscar…"
Malik Bendjelloul was a teen actor in his native Sweden, starring in a show which Segerman describes as the Swedish version of America's Family Ties. As an adult he worked as a TV reporter for Sweden's public broadcaster, specialising in making short films about visiting rockstars. Then he left to travel the world, looking for richer stories.
Segerman first heard from Bendjelloul in late 2006, when he emailed the record-store owner to say that he was coming to Cape Town, and asked if they could meet. He had learnt about Segerman's involvement in the Rodriguez tale through a piece in the Guardian, and wanted to hear more.
"At that stage we had a shop on the corner of Long Street with lekker big glass windows," remembers Segerman. "I can still see him coming around the corner and saying: 'Hello, I'm Malik!'"
In an interview with Movie Scope Magazine in July 2012, Bendjelloul described the encounter:
"I met Stephen 'Sugar' Segerman, the guy who first started to look for Rodriguez in Cape Town, and when he told me the story I was just blown away. It was just so beautiful and touching. Just the one-sentence summary was pretty strong: 'A man who doesn't know that he is a superstar.'"
For his part, Segerman instantly warmed to the lanky Swede.
"He just had such a lovely energy: tall, bright-eyed…He reminded me of Tintin," he says.
Segerman took him up Table Mountain and Bendjelloul filmed a short sequence of Segerman telling the story of the hunt for Rodriguez. Then he disappeared off to Sweden, and Segerman didn't hear from him for six months. At that point, Bendjelloul emailed to say: that's the story we like in Sweden.
Bendjelloul returned to Cape Town and shot a one-minute trailer in Segerman's den. He took it to the Sheffield Documentary Festival, where aspirant filmmakers pitch their stories. Bendjelloul won. A full-length documentary was on the cards.
Segerman points to a photograph pinned to a cabinet. It shows Segerman, Bendjelloul and camera woman Camilla Skagerström. "That was the team," he says. "Just them. They came here and shot, then went to Detroit. There was barely any budget. Just – excuse the cliché – passion."
Photo: Stephen Segerman, cinematographer Camilla Skagerström, and filmmaker Malik Bendjelloul, pictured in Segerman's den in Cape Town.
In Detroit, there was the tricky business of persuading the reclusive Rodriguez to feature in the film at all. Bendjelloul worked his way in by meeting the musician's family members one by one. He got his way eventually through sheer charm, Segerman says. Even so, filming Rodriguez had certain unique challenges. There's a scene in the film where Rodriguez is fiddling with a video microphone while he talks. It still had to be used: there was no question of a do-over.
"There was always only gonna be one take," Segerman chuckles. "No way was Rodriguez going to say all those things all over again."
For over a year, Bendjelloul sat in his flat in Stockholm making the film. People promised funding and backed out. He ran out of money for animation, so he had to do the animation work himself. It's the stuff of legends now that some scenes in the documentary had to be filmed using a $1 Super-8 iPhone app.
"That movie is sort of a bit jerry-built – kind of smashed together," says Segerman. "I saw it for the first time and thought: That doesn't look anything like movies I've checked, slick, beautifully-made documentaries!"
But the film's sheer heart – and the incredible story it told – more than compensated for its technical weaknesses. Some suggested that the story was a little too incredible – that Bendjelloul had conveniently omitted aspects of the Rodriguez narrative that didn't easily fit within the rags-to-riches trajectory.
"There were two main snipes about the film," Segerman says today. "The first was that Rodriguez wasn't actually an anti-Apartheid hero – which I never said. The other criticism is about Australia." Bendjelloul's documentary left out the fact that Rodriguez was aware that he had a major fan-base in Australia, and had toured there twice in the late 70s and early 80s.
"The simple explanation, which we spoke about, is that [Searching for Sugar Man] is about the search of two South Africans for Rodriguez," Segerman says. "I found out about the Australian tour the night that I met Rodriguez for the first time, in March 1998. If I'd known, I would have tracked him through Australia! It was not part of our story."
Segerman says Bendjelloul was unruffled by this criticism. "It made zero difference," he says. "For him to create something which brought so much happiness into the world…Nothing could have bothered him about that."
Segerman and Craig Bartholomew, the music journalist who also features in the documentary as instrumental in the hunt for Rodriguez, attended the Oscars with Bendjelloul last year.
From his wallet, Segerman extracts a piece of card on which he'd jotted down ideas for an acceptance speech for Bendjelloul, since the filmmaker hadn't prepared anything.
"I'm superstitious about preparing speeches – this has been lucky for me," it begins.
In the end, the laconic Swede didn't need the prompt. "Oh boy!" Bendjelloul said when he won. "Thanks to one of the greatest singers ever, Rodriguez!"
There's a photo in Segerman's den of the three men tux-ed up, Bendjelloul clutching his statuette, at the prestigious Vanity Fair after-party.
"Just on my left side, over there," says Segerman, pointing at the photo, "there was this old American dude. I thought: who's that? He obviously wasn't an actor." He pauses. "It was Buzz Aldrin. For a baby-boomer like me, you don't get any better than that. I met Buzz Aldrin, and then I went home."
Interviewed by the New York Times in May last year as part of a list of '20 Filmmakers To Watch', Bendjelloul hinted at the surreal aspects of having made such a successful first film.
"Since everything was the first time for me, it was a bit confusing to understand what last year was all about," Bendjelloul admitted. "To travel around with your film is a weird experience. Filmmakers are not musicians, they can't perform their film; you don't even need to load the projector. It was weird to think that that year was the reward for the work. But now I realise that it's this year that is the reward. To feel free to do exactly what you want to do without feeling too scared that your ideas won't interest anyone or worry about the rent or having to deal with people who think they know better."
After the Oscars, Segerman says Bendjelloul was besieged with offers.
"Malik had been turning down a huge amount of stuff. He had a lot of offers of TV commercials, that kind of thing, but he wasn't the type of guy to sell out. Your first full-length movie wins an Oscar! What the hell do you do for a second?"
In fact, for his next major project, Segerman said Bendjelloul had turned again to a South African story. He was working on a screenplay for a feature film inspired by the experiences of conservationist Lawrence Anthony, dubbed 'the elephant whisperer' for his work with traumatised elephants.
"He loved South Africa," Segerman says. "I always say he should have been an honorary Capetonian. You have no idea how many people found out about Cape Town from his movie. He made it look so beautiful."
Bendjelloul didn't let his newfound fame go to his head, according to Segerman. "He always looked a little bit shy, a little bit awkward. It's not an easy thing to deal with."
Segerman was last in touch with the filmmaker last Monday, when the two had an email exchange about a legal dispute unfolding between two of Rodriguez's old record labels. He says Bendjelloul gave no sign at all that anything was emotionally amiss.
"You know, through the film… My little record shop became a great little record shop. Rodriguez found his destiny. Malik, I thought, had found his," Segerman says.
"You put something like that out there. The joy that I've got out of it – how much more so for Malik? And it wasn't enough." DM
From Variety
Director Malik Bendjelloul, whose 2012 documentary "Searching for Sugar Man" won the best documentary Oscar, has been found dead.
He was 36.
Police spokeswoman Pia Glenvik told the Associated Press that Bendjelloul died in Stockholm late Tuesday, but wouldn't specify the cause of death.
"Searching for Sugar Man," about the life and career of American singer Sixto Rodriguez, won 2013 docu Oscar as well as awards from Bafta, the IDA, the PGA and the DGA.
Born in Sweden, Bendjelloul appeared on TV as a child and then studied journalism and media production. He produced music documentaries for Swedish television and worked as a TV reporter before leaving to travel in Africa and South America.
He filmed the story partly on an iPhone, and the film was accepted as opening night film at Sundance before it was even finished.
"I was backpacking around Africa and South America looking for stories with a camera. I found six stories and this was one of the six. I thought it was the best story I'd ever heard," he told the Independent newspaper in 2012.